The following is taken from website of The Souq International

-----------------------------
Discover Pure Argan Oil

Argan oil is known as the liquid gold of Morocco. This rare oil is made from the nuts of the Argan tree, which grows in no other part of the world except in the Southwestern region of Morocco. It is high in vitamin E and is known as the purest anti-oxidant. This golden colored oil also contains high levels of phytotestorols, squalene, essential fatty acids and unsaturated fatty acids.

For many centuries, Moroccan Argan oil has been used extensively as part of women's beauty regimen and in the treatment of various skin conditions. A few drops of this precious elixir can help revitalize hair, skin and nails. Today, Moroccan Argan oil has found its way into the mainstream, as more and more cosmetic companies now use it in their moisturizing, anti-wrinkle and age defying products. It is the latest miracle ingredient in the modern day beauty industry.

This truly powerful and amazing oil can do wonders for you from head to toe! Here are just some of the things that this multi-tasking oil have been known to do.

Benefits of Moroccan Argan Oil

Restores and rejuvenates the skin from the damaging effects of pollution, sun exposure, oxidation, tobacco, stress and other environmental factors
Moisturizes dry, dull skin
Regulates oily skin and helps shrink pores
Softens skin and reduces fine lines and wrinkles
Reduces skin irritation and redness, especially in the treatment of acne, blemishes, eczema, psoriasis and skin asthma
Makes scars and keloids less noticeable
Prevents stretchmarks because it helps maintain skin elasticity
Alleviates rheumatism and arthritis pain
Nourishes, strengthens and protects the hair cuticle from root to tip to prevent breakage
Stimulates new hair growth
Moisturizes hair, promotes shine and smoothens frizz and flyaways
Strengthens brittle nails

The Souq International's Moroccan Argan Oil is 100% pure, Ecocert certified organic. It is authentic and sourced only from Fair Trade with Women's Cooperatives that produce Argan oil in Morocco. It is all natural and contains no parabens, fragrances or artificial chemicals. It is hypoallergenic, non-comedogenic and safe for all skin types, even babies and pregnant women. The Souq International's Moroccan Argan Oil is cold pressed, of the highest grade and produced under rigorous and strict quality management systems (QMS-ISO 9001:9008).
-----------------------------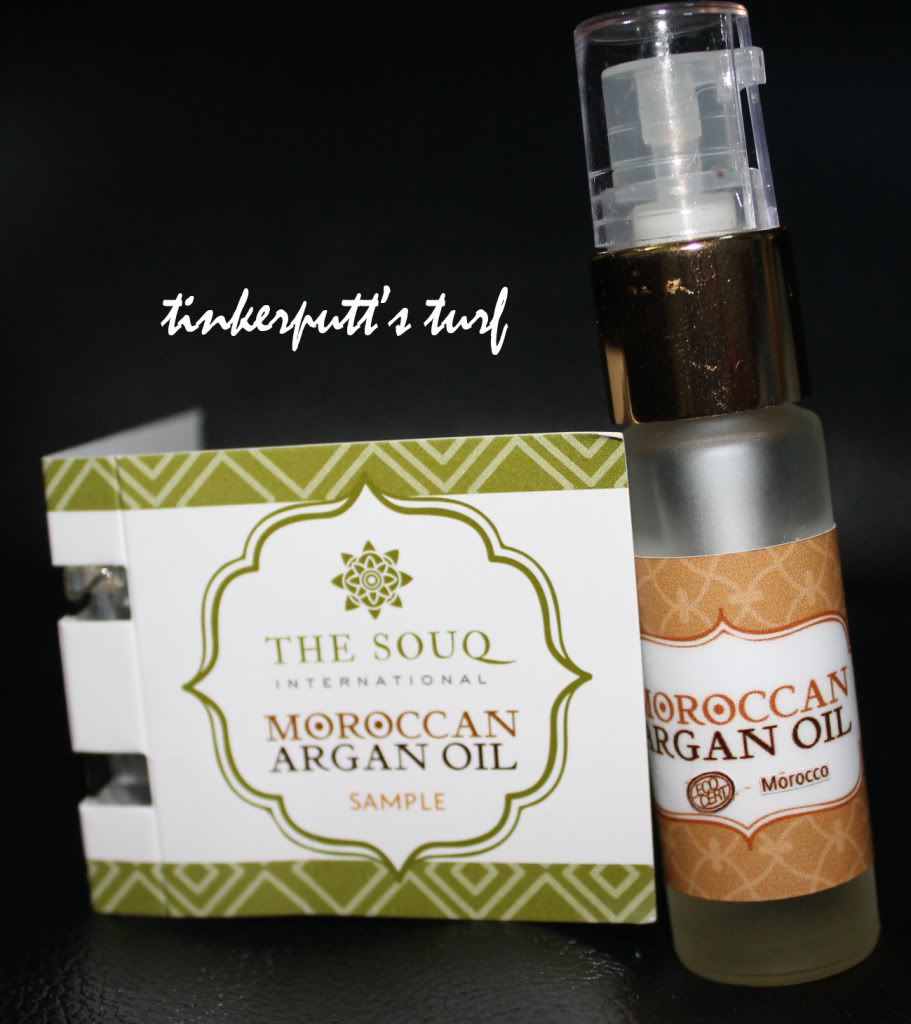 I got a sample of the Moroccan Argan Oil when I won in their Facebook Contest. (see my post about it
Winning the Photo Tagging Contest in Facebook of The Souq International)
I was curious whether the Moroccan Argan Oil would be effective for me. So the day after I got them, I tried it on my stretchmarks. I had stretchmarks on my tummy and on my legs due to pregnancy. SO far, almost 2 weeks of using it, I see a slight improvement. Some have lightened, some have disappeared especially those that are only starting to show up.
The Moroccan Argan Oil is not greasy. I think the oil is quickly absorbed by the skin. It doesn't smell bad either.
I want to try it in my hair soon and see the difference.
The bottle is still have full but I am planning to buy another bottle already.