This morning, i received an email with the RCBC Account Suspended. I think this is not the first time that I have received an email like this one. I have received one from RCBC, Metrobank, Unionbank, Chinabank, and Standard Chartered once a month. I always mark it as spam or just delete it. Why? Because I don't have an account on these banks except for Chinabank.

These are just phishing emails that would ask you to clink on a link to "activate" your account.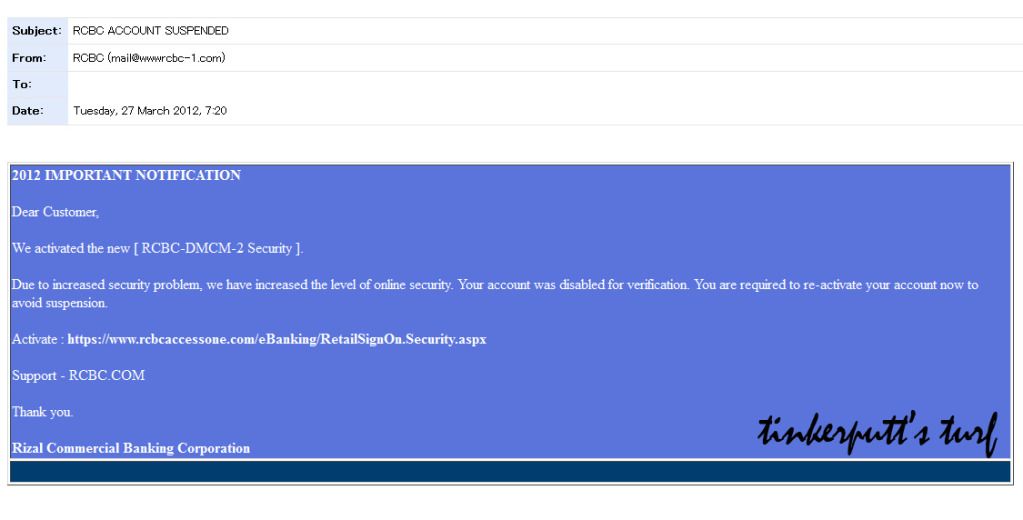 Phishing emails are usually sent generic and not personalized. It will not have your name title (Mr / Ms / Mrs / etc) or even your name . Looking at the photo above, it only said "Dear Customer"
As for the link, the link posted is
But if I hover my mouse on it, it will point to this URL
http://wwwrcbc1.com/r1/www.rcbc.com/rcbc.htm
Never click these links. Just delete the email.
As posted at the RCBC website (http://www.rcbc.com)
Please be warned of Phishing attacks presently being lodged against Philippine banks by foreign syndicates.
Such attacks are perpetrated by unscrupulous groups (called "phishers" / "scammers") who randomly send bank clients an email message asking for their User IDs, Log-in and Transaction Passwords and claiming that this is for the purpose of ensuring their continued use of the bank's internet banking facility (in RCBC's case, RCBC AccessOne). Please be informed that these messages are fictitious, fabricated and are only meant to mislead you into allowing these phishers to steal your online financial identity and then illegally transact on your behalf.

Falling for this ploy could also allow these "syndicates" to steal your money.

Given this scenario, RCBC would like to remind you to NEVER trust or click on any link sent via e-mail or SMS if it requests for any personal information. RCBC WILL NEVER ask customers to provide these confidential information through email. Do not click on links provided in emails. Instead, type the bank's website (www.rcbc.com) directly into your browser's address bar.

Please ensure that you use your User ID and Passwords ONLY when transacting directly to RCBC AccessOne.

Likewise, please be reminded that as stipulated in the Terms and Conditions you signed for RCBC AccessOne, the bank will NOT take responsibility for whatever losses you may incur in case of incident accessing bogus / unsecured websites.

Should you receive a suspicious "phishing" email, please report this immediately and email customercontact@rcbc.com or call 877 RCBC (877-7222)

Thank you.